lapin · Administrateur

11-07-11 · 13 447
79
Interview : Tribes Gathering Festival organizer for Bass Expression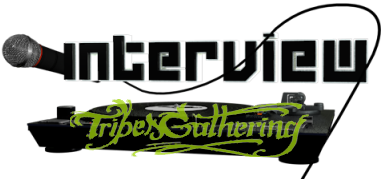 Today it's a big day, the first 100 % writing interview by the entire Staff of Bass Expression. Indeed, it's the whole team of da board which works together for send questions to the Tribes Gathering Festival.  This Belgian electronic Festival celebrating it's 4th edition this weekend and bringing the time of one events 2 big names of Free Party scene with Spiral Tribe and Heretik Sound System. In addition of these two giants, there are also the excellent Jeff Mills and Mad Professor the boss, with young DJ and producteur from da Belgique scene. All of this are divided on 7 stage  and Dance Floor wich promising an rich in diversity event. Interview with Dan investigator and coordinator of the project.

Hello there, thank you for accepting this interview, can you first introduce yourself to our readers?

I am the creator and promoter of the festival call Tribes Gathering beside that i have all kind of party project in Europa. I am also active like artist and artist manager.
We are here to talk about the 2013 edition of Tribes Gathering 3rd name to be held on 12/13/14 April 2013 in Belgium.
Firstly can you tell us about the Tribe gathering and the three years of existence, the historical, some numbers ...

We are at the 4 edition not first. The first edition that we have made of Tribes Gathering was in 2010 in the fort of Cognele. It was my gift to the owner of the venue because he help us to clean our goa festival call Rhakti Dei that we are doing already from 2002. The scope was to make 7 stages in the Fort Of Cognelle with all different styles of music.
We made this in 2 weeks preparation and we had 900 visitors  After this editon my and Gege (the rave farmer from Wallonia) that was the owner of the first venue we have decide to do it one more time but we realize that we take much more time we can gather many tribes around us that are only focus on one style of music to one tribe. In my tour in Australia when i was at a Ozzy party i get this sentense in my head FUCK THE SUBCULTURE, WE ARE ONE CULTURE so i come back in Belgium in November 2010 and we have start the preparation of the first really Tribes Gathering Festival.

My dream was to creat a festival where underground music is presented but also a street theater and art installation festival. A festival need to be a story for me not only music. Each second need to be a surprise for the visitor of our festival.

It was a hugh success we had 7000 visitors and we where really surprise that so much people follow our idea and the philosophie that we had. On the top we have been selected at the European Festival Awards in two categories that surprise even more.

Past year we have did it again and we had 9000 visitors with people from all over the globe. It was strange to see people from Japan, Usa, Australia arriving on our festival and sending us email that a great experience they had.

For the moment is one of the biggest grown festival in Belgium in 2 years we get from 900 people to 9000 people. For this year we are sure that we will go over the 10000 people.

The 2013 edition is the project that seems most successful since the launch of Tribe Gathering Festival with big DJ and some safe values (Hellfish 1200Micrograms ...) Introduce us about this 2013 edition if you wish ?

The power of Tribes Gathering are not the big names but the little underground name that make one big element. 85 % of the line up of Tribes Gathering they are Belgium underground dj and producers that are playing normaly at party of 200 a 300 people. We are looking for the talents inside and with the festival we want to give them the change to express there own before an entire tribe from all over the globe.

The save values that we bring are artist that we support already long time and that we have a big connection with. The first time that we book HellFish was in 2003 and 1200 Micro in 1999.

This year we have a really nice line up with a big variation on it. If you come to Tribes Gathering you can lissen to all kind of style so everybody find his taste inside. Our scope is that people that are lissing or going only at one style of music that they discover new styls and artist. Let say that it is like and underground musical education platform that we want to offer to our visitors of style of music that are not present on outer festival because the music is to underground.

The headliners that we have book this year are the Sp23, Heretik System, Jeff Mills, Adrian Sheerwood, The Panacea, 1200 Micro and many more. Pleas take a look on our website if you want to have the complete line up.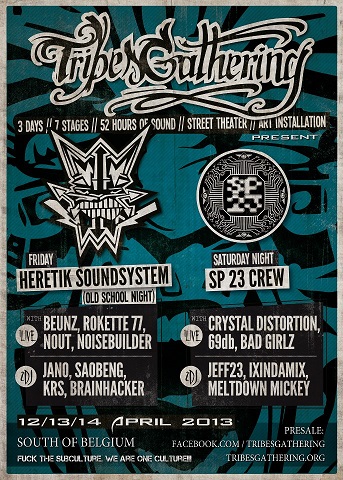 For the headliners, you give at all of fans of Freetechno a high quality line UP where we can found the mythical Heretik and The legendary Spiral Tribe, How has it been possible to you ?

I love rave music and i am big fan of it. My two partners Gege and Jamie have organisate free techno gathering already more than 25 years. We had a dream to bring them together on our festival and this year we have done this  Up to the next dream for next year that it will be to gather the 5 most crazy sounsystem of Europe.
The focus will therefore voluntarily Old School for the 2013 edition?

For Spiral and Heretik yes. It is really important that the new generation of ravers come in contact and experience the old school sound that this sondsystem become famoust of it. I find it really funny when visitors tell me that Spiral it is not to hard and fast. They have never think about that in the years 90 the people where discovering electronic music that was slow around 120 to 130 bpm. Nowadays many soundsystem are thinking that they need to go loud, fast and hardst and forgot the really essence of the sound sometimes because of the ego that they get.
In addition to the headliners, 7 scenes are announced on the fly of Gathering which represent a wide spectrum of Electronic music
(DUB techno goa rave drum & Bass Hardcore Minimal) all symbolized by a color and an element or materials (wood earth metal ...)
What is the idea behind this eclectic representation and staging chosen.?

Each stage have a kind of energy that bring the visitors in a kind of world of trance. If you are looking to the elements that we use to give the name of the stage you will observate that are the base elements that the world is creat by. Without this elements you don't have any civilation or evolution.
I am sure that without this elements the world will not exist. So by gathering all this elements we have creat one world that is call Tribes Gathering.
It seems that the town of gouvy is hard to give its agreement to hold the festival on the town, you have a problem of land at this moment ? And in a broader sense what is your relationship with the police and local authorities to organize such an event?

I find it really sad to say but creating a festival have also to do with politics. Some decision are take only by one person. So in Gouvy this was the issue the new bourgemeester have decide to say no because he have promise this in his campagne to some people. The most sad in this entire story is that he have lie to the media and to all the people of the village. I am sure that now he regret this already knowing that many people of the village where angry on this decision.

Now we have found together with the Belgium autorities a new venue. They were also shock about the decision of the Bourgemester so they have decide to help us to find a new venue that have become Hotton-Melreux.

WIth the police we have a good relation. Don't forget that this people are there to look after the security of the festival but also that the Belgium Low is look after. To my opinion until now they were really fair with all the visitors.
The Tribe Gathering is every year more and more oriented towards ecology, can you tell us a word about it, eco tax, the Waste Management .

I find it important to do this for the visitors. It start with a simple think the paper that i print on it in the office is bio recup paper i am doing this already from 2005. From this moment i have decide to work on the ecologie on our events and festival. It is something that is really difficult to manage on a festival but i think that in 2 years we will get to a system that we can mix waste with art. We need to educated the visitors that they have all the power to do this on a good way the only think that we can do like promoters give them a good structure so that they can do it on a god way.

For this year our visitors have the change to separated there waste in
° normal waste
° organic food waste
° pmd// Bims(plastic)
° paper//carton
° glas

All this material will be bring to special eco waste factorys and create new material of it that maybe in 3 mounts after our festival our visitor will use it once again without that he realize.

The idea of the ecological tax is that the people realise the cost that we have on one visitor on our festival for the ecologie. A part of this money we are also using to support different ecological projects on the rural side of south of Belgium.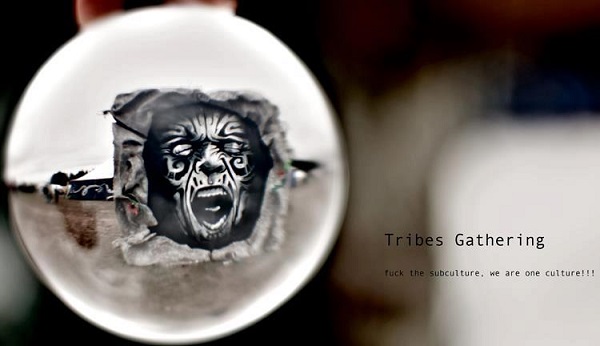 To finish a word about your slogan : "Fuck the subculture, we are one culture" ?

I creat this slogan in Australia. I realize there how people like to restrict there own to one subculture, when they have all kind of subculture that they can experience. I find it really sad. The world is big and have such big diversity that make all together one element. The one culture like i mention at the end of the slogan. So when i create the Tribes Gathering Festival i had this in my mind each second that i was preparing it. The idea is to bring all kind of subculture together on a gathering that give a big diversity of it.

The last years i have realize that this slogan is really strong and that many people follow my idea's regarding this. So i am really happy to see a cultural movement growing around it and i hope that in the future many people and association come to participated to our festival.
We leave you the last word, for thanks or for autographs or just for a particular message.

I want to thank you for giving my the change to express my own and to support our festival on your platform

Such kind of project can't be created with out a crew and a family around. So i want to thank to Eva, Jamie, Gege, Celine, the freaks of Yvoire and the villaes around and all of you there that support us from years. Off course all the stage manager that help me to programated a really interesting line up full of surprises.

The biggest thank i want to give to my woman that have support my to create this dream and that she believe in my and my crazy idea that i have each morning when i wake up full of energy

Cheers
A big big thank's for Dan who accept this interview, thank's at the Staff, and donot hesitate to leave your feedback .
Find the French Version of this interview here => https://www.bassexpression.com/viewtopic.php?id=3661

Les liens utiles :
Website of Tribes Gathering Festival : http://www.tribesgathering.org
Facebook fan page of Tribes Gathering Festival : https://fr-fr.facebook.com/TribesGathering
Post about the party on Bass Expression  : https://www.bassexpression.com/viewtopic.php?id=3343

Audio interview of Mrik Furious Sound System click here
Audio interview of K-rma Interference Intoxytek Sound system click here
Back on 10 years of Tunnel du mortier party with Gregos of Polemik's click here
Did you like this interview ? Share with your friends with facebook at the bottom of this post. Thank's.